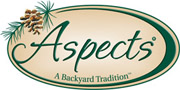 Aspects WINDOW CAFE Window Feeder
Our most popular window feeder ever!  A clear roof over hangs the seed tray to protect seed from rain. Seed reservoir slides out for easy filling and cleaning . Virtually unbreakable UV stabilized polycarbonate construction is backed by our Lifetime Guarantee.
 3/4 quart capacity    

All Aspects Window Feeders feature patented removable seed trays for easy filling and cleaning.  Our Suction cup mounting system will bring birds right up to your window for close-up viewing.  These attractive feeders are manufactured of high impact crystal clear. material for years of window feeding enjoyment.