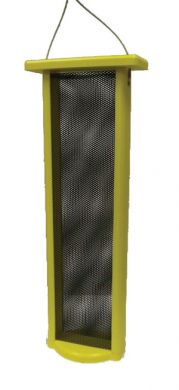 Magnet Mesh Recycled Nyjer Feeder
Constructed from 5/8″ yellow recycled poly-lumber, this feeder features a patented polyester-powder coated black mesh (Patent#5,970,913) which tests prove attract up to double the birds than other mesh on the market. Includes a braided plastic coated hanging cable.
20 year warranty against fading, peeling, cracking, or chipping.
Capacity: 3 Quarts.
Dimensions: 8″ L x 3″ W x 21″ H