An innovative Birders Choice platform feeder / seed catcher from Backyard Nature Products. This

Medium Platform Pole Mount Seed Catcher has removable  trays for easy cleaning. The seed trays are perferated anodized steel which drains moisture keeping seed dry. Mounts on a 1″ pole under a feeder to catch seed. Keeps seed from falling on ground while acting as an added platform feeder for birds to enjoy. Includes mounting flange.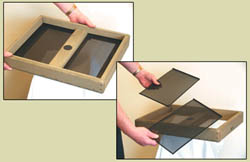 All of our Platforms and Seed Catchers include our patented easy-to-remove seed trays. These trays will help you to keep your feeders and the areas around them clean!
Medium Platform/Seed Catcher
Need a Pole to mount your new feeder?