Large Recycled Fly-thru Platform Bird Feeder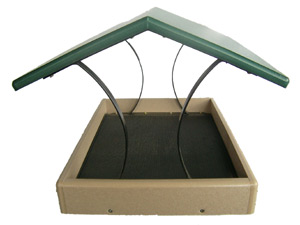 SNFT-300 : Made out of 5/8″ poly-lumber. Powder-coated wrought iron brackets with removable seed tray for easy cleaning. Green Roof with Taupe Base
If you want to see all the birds at your feeder, invest in a Fly-Thru feeder. The beauty of these feeders is that there are no obstacles in the way and you will not miss any of the action. Attracts a wide variety of birds. Removable seed tray keeps the seed and feed dry and makes it easy for cleanout. This feeder also works great as a covered ground feeder if you attach a recycled leg set #SNLS or attach to a 1″ round pole with our mounting flange #1202 – sold separate.
Polyester powder-coated black wrought iron ends
5/8″ Poly-lumber made from recycled plastic jugs
Lifetime guarantee to never crack, split or fade
All screwed construction using stainless steel screws
Fully routed edges
Removable seed tray makes this feeder easy to clean
Seed tray provides excellent drainage to keep seed dry
Made in the USA by Birds Choice
Dimensions: 17-3/4″L X 16-1/4″W X 13″h

Have a 1″ pole and just need the 1″ quick remove flange to mount your new bird feeder?
Need a Pole to mount your new feeder?