Early October is the normal arrival date of the Dark-eyed Juncos and White-throated Sparrows from the north. These two birds announce the onset of the fall migration of northern bird species. Other early birds from the north to watch for include Pine Siskins, Purple Finch, Harris' Sparrow, and the Red-breasted nuthatch. This little nuthatch, often a common winter visitor, is so tame it has become everyone's favorite seasonal bird. As we move closer to the month of November we may be blessed with crossbills, Red-polls, and any number of other birds from the North Country in search of winter food resources.
The ducks and geese are becoming restless for their flight to southern regions where open water will be abundant all winter long. They are among the last of the migratory birds to head south ahead of approaching cold weather. As with most birds, the trip south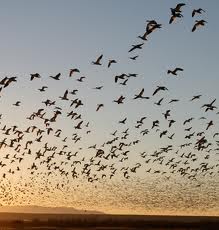 is relaxed and unhurried. Area lakes are a great place to view the many species of waterfowl on the move.
The huge flocks of blackbirds, including the notorious Common Grackle, will be growing in numbers and eventually they will leave as well. The folks in the southern Gulf States where these birds are headed are already dreading their arrival. Some of these flocks can number in the millions and the noise and upheaval can be hard for us to comprehend. These large flocks of blackbirds on the wing are truly a sign of autumn along with the changing colors of the leaves. But mind you, they don't all lleave at the same time as blackbirds from the north will continue to filter through our area for the next week or two.
This is again the time of year for big changes and even surprises. Watch your feeders and surrounding yard for new birds showing up or just passing through. October is the month when many warblers that summer in the Northern U.S. and Canada will be moving through. Vireos, thrush, flycatchers, kinglets, and others will be drifting south to winter territories along with a number of native sparrows. Keep your field guide and binoculars at the ready.
If you are just getting started feeding birds, you can be confident the staff at the Wild Bird Habitat Store will provide you with the information to become instantly successful. With 17 years of experience and knowledge about the latest techniques and products in the bird feeding industry, we are here to help you. Bird feeders, and other products, sold at Wild Bird Habitat with a warranty are repaired right at our facility. Bird feeders without warranties are also repaired as needed at little or no cost. We will even repair feeders purchased from other outlets. Now is the time to have your bird feeders ready as our winter visitors will be arriving, and our resident birds are preparing for winter.

Now is the time to make preparations to provide water for your backyard birds this winter. One can almost attract more birds to open water when the temperatures plummet than with just seed alone. If you have a bird bath heater or de-icer, check to make certain it is still in working order. Since most are thermostatically controlled you can determine if it is working by putting it in your freezer for 20 minutes. Remove it from the freezer and plug it in. You should be able to feel the device warming up. If your bird bath heater or de-icer is covered with scale from last year, you can improve it's efficiency by soaking it in vinegar for about an hour, then scrub with a stiff brush. Repeat the process as necessary. Wild Bird Habitat has Nebraska's largest selection of bird bath heaters, de-icers and heated bird baths fully covered by a manufacturer's warranty