The Friends of Pioneers Park Nature Center promote and support the development, programming and operation of the Nature Center. In recent years, the Friends have funded the steel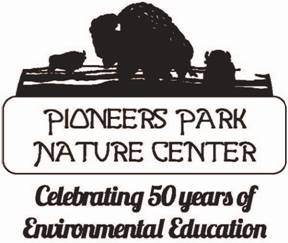 entrance artwork, contributed to the acquisition of the newest portion of the Martin Prairie and the construction of the Prairie Building and its exhibits.
The proceeds from their annual April fundraiser, Nature's Market, provides partial support for school hikes and scholarships for Nature Center camps and preschool. In 2009 and 2010 their artistic rain barrel program and live auction was a huge success, providing artists, schools and other groups an opportunity to display amazing creativity, educating the public about the benefits of catching rain for their watering needs, in addition to being an important part of Nature's Market. In 2011, several local artisans submitted applications to create a bird house that was publically displayed and ultimately auctioned. In 2012, the live auction will again feature an array of bird houses, both functional and decorative. All the vendors offering unique products, good food and enjoyable entertainment makes for a fun spring morning at Nature's Market.
Consider joining the Friends of the Pioneers Park Nature Center. Benefits include access to special Friends programming, 10% off all Nature Center gift shop items, free or reduced admission to other centers nationwide and, most important, the satisfaction of supporting a valuable community resource.
http://lincoln.ne.gov/city/parks/naturecenter/links/Friendsbrochure2007.pdf
Friends of the Pioneers Park Nature Center FaceBook
About the Pioneers Park Nature Center
Nancy Furman
PPNC Coordinator
402-441-7895