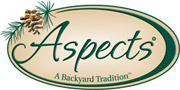 Aspects Large Quick-Clean Seed Tube Bird Feeder

Aspects' Quick-Clean Large Seed Tube Bird Feeder combines heavy die-cast metal caps, ports, bases and a clear UV stabilized polycarbonate tube to make these feeders an investment that lasts a lifetime.  A built-in seed deflector in the base allows birds to remove every last seed. Redesigned feed ports on the seed tube model have a raised ridge to divert rainwater and perches are part of the seed port.  Available in three distinct finishes.  Add an Aspects' seed tray to attract more birds, and protect the feeder from the elements with an Aspects' Weather Dome, or from squirrels with an Aspects Hanging Squirrel Guard.  Color of feeder will be based off of availability.  Brass, nickel or spruce green.
6 seed ports
1-3/4 quart capacity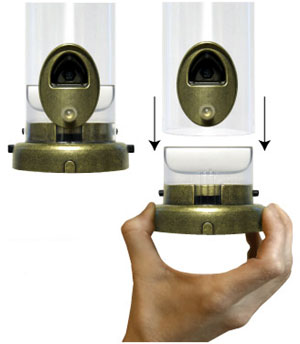 Aspects Quick Clean Technology –  Seed and Nyjer tubular feeders now feature a revolutionary removable base. To remove the base all you need to do is push the buttons and the base slides easily out! When a seed tray is attached to a feeder, simply remove the base for cleaning with the tray still attached. It is one easy step that makes cleaning your feeders a snap!
ALL PRODUCTS MADE IN THE USA
Aspects proudly manufactures products in the USA. We appreciate the loyalty our customers have shown to us over the years and we in turn strive to continue to offer quality, innovative products that are backed with a Lifetime Guarantee. We further support independent retailers by never selling our products in the deep discount outlets.