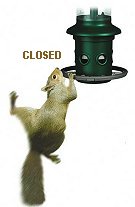 Squirrel Buster PlusTM
This squirrel proof feeder breaks new ground with design features available for the first time on any bird feeder. Thousands of delighted clients (and well-fed birds!) confirm that the patented Squirrel Buster TM system is
TRULY SQUIRREL PROOF.
How it works: Openings in the bottom section of the feeder (shroud) align with seed ports, providing birds access to the seed. When a squirrel climbs onto the feeder, its weight automatically forces the shroud down, closing the seed ports. squirrels and large birds are foiled but not harmed in any way. All squirrel BusterTM products are made of rugged UV-filtered ABs and Polycarbonate resins and powder-coated aluminum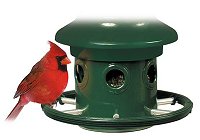 components. Hangers, springs and fasteners are stainless steel. The tension is adjustable so it can be precisely set to keep large black birds off while allowing Cardinals to feed.
Dishwasher Safe. Seed Tube Ventilation System Adjustable Posi-Grip Perch Cardinal Ring System 6 Adjustable Perches! Rustproof and UV Filtered! Detachable Parts for Easy Cleaning!
Size: 28″ Tall
Capacity: 3 Quarts

Instructional Video