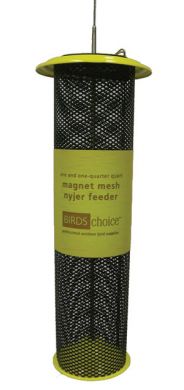 Magnet Mesh Nyjer Feeder Small
Attract up to double the finch with this patented (#5,970,913) mesh Nyjer thistle seed bird feeder. All-metal polyester-powder coated feeder with hanging cable. Lifetime guarantee. Holds 1-1/4 quarts of Nyjer thistle seed or fine ground sunflower hearts. 

Best finch mix is 50% Nyjer thistle seed & 50% ground fine sunflower hearts.
Discription: Yellow w/black screen.
Dimensions: 4″ W x 11 1/2″ H