All of Birder's Choice Hopper Feeders from Backyard Nature Products are built with select 7/8″ Inland Red Cedar for long lasting outdoor use. All screwed construction using weather resistant plated deck screws and fully routed edges.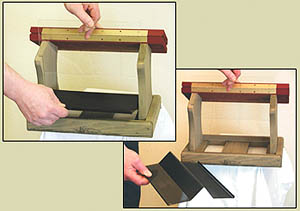 Both Wood Country and Country Classic Hoppers by

Birder's Choice

 include a patented powder coated easy-to-remove perforated steel seed tray.  These trays will help you to keep your feeders and the areas around them clean! Our removable trays also help to keep seed dry.
Small 2-Sided Hopper Feeder
Size: 9.5″L X 10.5″ W X 9.75″H   
Capacity: 2.5 quarts seed.
Need a Pole to mount your new feeder?
Have a 1″ pole and just need the 1″ quick remove flange to mount your new bird feeder?