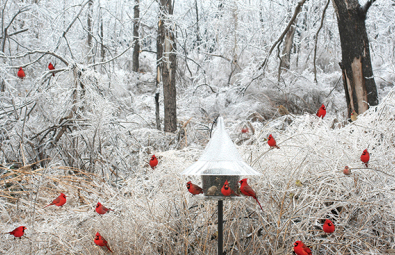 The Sky Cafe Bird Feeder by Arundale Products is the best squirrel proof bird feeder in the world. This large bird feeder keeps the birds happy, while its unique and durable design protects against squirrels and the elements. Squirrels slide off the dome every time they try, and they do keep trying, again and again, making this the best squirrel proof bird feeder around. Made in the U.S.A., this feeder has a *Lifetime Warranty against squirrel damage*.
This large bird feeder opens onto a wide tray that provides birds a comfortable place to feed, but keeps squirrels out. Cardinals, chickadees, tufted titmice, woodpeckers and many other songbirds gather together on this full-view round bird feeder. Cardinals, who may hesitate to land on narrow spots, are eager to land on this circular platform.
The large 17″ diameter squirrel proof dome protects seed from rain and snow. Its large capacity 1 1/2″ gallon bucket means fewer trips to refill. Clear-view, easy-flow seed dispensing means birds peck at a seed and it falls out in front of them onto the tray for easy dining. The Sky Cafe Bird Feeder is available in original clear, emerald green, sapphire blue, ruby red, & sunset orange.
This feeder works as both a hanging bird feeder and a pole mounted bird feeder. Assembling the hanging bird feeder is easy with our free hanging kit and water guard. Also fits a 1-inch diameter pole if you prefer to pole mount the feeder.
As of 2015, we have updated our material to a much more resilient & durable polycarbonate. Made in the U.S.A., this new material has high impact-resistance and is now much stronger and resistant to cracks and breakage. The durable polycarbonate lasts for years and years, making the Sky Cafe Bird Feeder the most durable bird feeder on the market, as well as the best squirrel proof bird feeder. No need to buy bird feeder replacements every other year! The eco friendly dome is made from 100% recycled plexiglas.
This bird feeder is referenced very highly in Bird Watcher's Digest and Bill Adler, Jr.'s book. Buy this bird feeder and see for yourself why customers are so loyal to this product!
Purchase a SKY CAFE
Create your own squirrel proof bird feeder with the SKY CAFE SQUIRREL BAFFLE