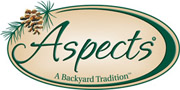 About Aspects, Inc.
At Aspects, Inc. their business philosophy is a simple one: manufacture high-quality products made from the best materials possible and stand behind them with unsurpassed customer service.
Aspects manufactures wild bird feeders that are as attractive as they are functional. Our tubular feeders come in many styles, sizes and color variations. The variety of feeders available provides our customers with several options in choosing a bird feeder that suits their individual needs. All of our seed and thistle tubes are backed with a lifetime guarantee. To see the colors and styles our feeders are available in, visit our product page.
In addition to our extensive line of wild bird feeders, Aspects is well-known for our collection of decorative thermometers. All of these products are hand silk-screened and usually consist of twelve to sixteen colors in a variety of original designs by renowned artists in the birding field. To see a detailed listing of our decorative items, visit our product page.
We will continue to introduce new and innovative feeders to our product line…….so please visit us again soon!
The Aspects Difference
Aspects' products are designed to add a new element of nature to your surroundings turning your outdoor environment into a wildlife habitat: No matter where you live, birds are a natural part of your landscape. Attracting them to your home to feed is an easy activity the whole family can enjoy. Children and adults alike will, appreciate the ease of maintaining a haven for some of nature's most beautiful and fascinating creatures.
All Aspects' feeders are crafted in the U.S.A. to the highest standards of quality, to provide countless hours of bird-feeding enjoyment.
Aspects Commitment to Birds and Their Environment
The love for nature extends beyond the craftsmanship built into our wild bird feeders. As a result, Aspects is a corporate sponsor of Project Feederwatch, a conservation project of the Cornell Lab of Ornithology at Cornell University, and the Migratory Bird Conservancy, which is dedicated to studying and. preserving migratory bird natural habitats. In fact, every dollar that Aspects contributes to the Migratory Bird Conservancy is tripled through matching fund donations.