Saturday the last day of June, 2012 the Irene & George Alexander Bird Garden was dedicated at the Pioneers Park Nature Center. More than 60 friends and relatives attended this very special dedication, honoring the work of Irene and George in the birding community and more than 20 years of service to the Nature Center.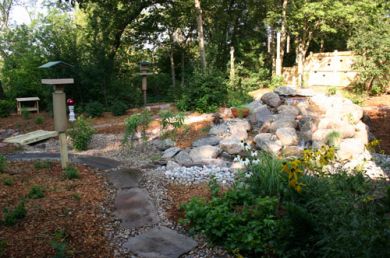 A Short Biography of Irene & George

Irene Alexander served as a teacher/ naturalist at Pioneers Park Nature Center from 1978 to 2010. Her primary interests were birds, the prairie and the Louise Evans Doole Herb Garden. She received her bird banding subpermit in 1993, assisting in the Nature Center program. Upon receiving her master permit in 1997, Irene served as the Center's bird bander until the fall of 2007. While on the staff of the Nature Center, she shared her love of birds and nature while leading countless hikes for school children and programs for the general public. She served as a fount of knowledge and an example of passion and dedication for her colleagues.
George Alexander, an enthusiastic birder and photographer, assisted Irene with bird banding for many years. His large library of bird photos enhanced the popular Basic Bird Identification class he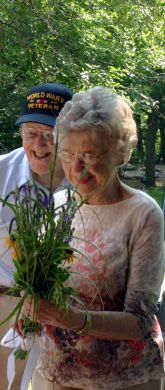 offered with Irene, as well as many Nature Center exhibits.
The 2012 renovation of the bird garden is dedicated to Irene and George in recognition of their achievements.
The achievements of Irene are lengthy. She walked several miles of bluebird trails weekly at the Nature Center well into her 80's. Keeping accurate records Irene sent the data for number of bluebirds hatched and fledged to Bluebirds Across Nebraska. She provided bird banding demonstrations to school children and adults. Several years ago I asked Irene how many birds she had banded ? Her reply was she quit counting after about 28,000 birds. Once she banded an Eastern Kingbird at the Nature Center. This kingbird was found along the banks of the Amazon River in South America still wearing the band Irene had fitted so delicately. She participated in every special event at the Nature Center from Sooktacular to the Herb Festival. Irene wrote a regular column for the Wachiska Audubon newsletter the "Babbling Brook" about what was happening in the world of birds. To me she was a mentor and a friend and George was always ready and willing to share his knowledge about the birds with me.
The Wild Bird Habitat Stores partnered with the Pioneers Park Nature Center helping to develop, fund, and implement the renovation of the bird garden located at the Chet Ager Building at the Pioneers Park Nature Center. Wild Bird Habitat would like to invite everyone to come out to the Nature Center and enjoy the birds in the Irene & George Alexander Bird Garden. Read more by clicking on the link:
An Oasis For Birds & Bird Watchers, All For The Alexanders 
Irene Alexander, Nancy Furman, Dave Titterington