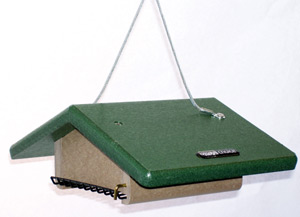 Recycled Single Cake Upside Down Suet Feeder w/Hanging Cable
5/8″ Poly-lumber made from recycled plastic and milk jugs. Lifetime guarantee to never crack, split or fade. Stainless steel screws. Taupe base w/green roof. 12″ hanging cable.
Dimensions: 7″ L x 6-1/4″ W x 4-1/4″ H
Holds any standard size suet cake.