Squirrel Proof Bird Feeders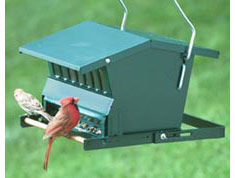 The Wild Bird Habitat Store carries a large selection of Squirrel Proof Bird Feeders, many with lifetime warranties. Several of these feeders are Bird Selective as well, deterring unwanted birds such as grackles and starlings, yet allowing the more desirable birds, cardinals, finch, chickadees, and others, access to their favorite feeds. The Caged Bird Feeders provide a haven not just for small birds, but downy woodpeckers that can enter through the caged openings and larger woodpeckers that use their long barbed tongue to extract seeds. The squirrel proof bird feeders sold by Wild Bird Habitat are truly squirrel proof.
Caged Squirrel Proof Bird Feeders
Squirrel Baffles That Work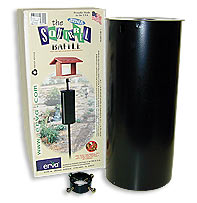 Squirrel Baffles make it mechanically possible to prevent squirrels from reaching the bird feeder. Not all baffles are created equally, and those sold by Wild Bird Habitat have been tested and proven to do the job.