Starring: Steve Martin, Jack Black & Owen Wilson
A must see movie for all birders!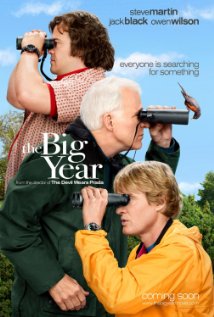 Opening October 14
    Downtown Lincoln, NE
"The Big Year" Birds & Bloom Magazine
The Big Year
The Big Year is a movie about three birding enthusiasts who race around North America in a prestigious contest to see who can spot the greatest number of species in a single year. The Big Year stars Steve Martin, Jack Black and Owen Wilson who are at a crossroads in life — one is experiencing a mid-life crisis, another, a late-life crisis, and the third, a far from ordinary no-life crisis. From David Frankel, the director of The Devil Wears Prada and Marley & Me, this is a sophisticated comedy about three friendly rivals who, tired of being ruled by obligations and responsibilities, dedicate a year of their lives to following their dreams. Their big year takes them on a cross-country journey of bird watching and life-changing adventures.
The film is based on the book The Big Year: A Tale of Man, Nature and Fowl Obsession which was written by Mark Obmascik. It is about a group of friends who are obsessed with birdwatching and set out on the big year, a quest to outdo each other by finding the most species of birds in North America. Their competition is allegory to the challenges faced in their lives.
The book is based on a real life story where in 1998 three different birders, Sandy Komito, Al Levantin and Greg Miller, chased Komito's record of 721 birds in a "Big Year". In the end Sandy Komito kept the record, listing an astonishing 745 birds, a record many in the birding community believe might never be broken. The reason they believe this is because during that year, one of the strongest El Niño years on record caused many lost rare birds to come to North America. North America itself has only about 675 native species.
 A Big Year is an informal competition among birders to see who can see or hear the largest number of species of birds within a single calendar year and within a specific geographical area. A big year may be done within a single US state, or Canadian province, within the lower 48 continental U.S. states, or within the American Birding Association area (i.e. the 49 continental U.S. states (including Alaska), Canada and the French islands St. Pierre and Miquelon, plus adjacent waters to a distance of 200 miles from land or half the distance to a neighboring country, whichever is less. Excluded by these boundaries are Bermuda, the Bahamas, Hawaii, and Greenland.).